XT-3520双侧面贴标机
XT-3520 double side labeling machine
概述:
双侧面贴标机是由输送机构、分瓶机构、校正机构、上压机构、送标机构、抚标机构及电器系统等组成。整机采用304不锈钢及铝合金材质,电器系统全部采用世界知名品牌,确保整机的持久稳定性和可靠性;该机适用于医药、食品、日化等其他轻工业中的圆形、方形、扁瓶等同类产品的双侧面贴标,一机多用,即可单机使用,亦可满足联线使用。
Summary:
Double-flank labeling machine consists of conveying mechanism, bottle-distributing mechanism, correction mechanism, pressure mechanism, label-feeding mechanism, label-pressing mechanism and electric system. The complete machine is made of 304 stainless steel and aluminium alloy and the electric system of world-known brands ensure the lasting stability and reliability of the machine. It is applicable to lable double-flank of round, square or flat bottles of the same kind used to package medicine, food, daily use chemical and other light industrial products. One machine with several usage can be used solely or to connect one assembly line.
分瓶机构 Bottle-Distributing Mechanism
校正机构 Correction Mechanism
八维调节机构 Eight-Dimensional Adjustment Mechanism
上压机构 Pressure Mechanism
抚标机构 Label-Pressing Mechanism
电器系统 electric system
型号/技术参数

Model / technical parameters

XT-3520

贴标速度

Labeling speed (pcs/min)

40-200件/分(与物料及标签尺寸有关)

(relate to material and label size)

贴标精度

Labeling accuracy(mm)

±1.0mm((不计物料及标签尺寸)

(material and label sizes are not counted in)

标签尺寸

Label size(mm)

(L)20-300mm (H)10-184mm

物料尺寸

Material size(mm)

(L)40-200 (W)40-180 (H)40-350mm

适用标签卷内径

Roll inside(mm)

φ76mm

适用标签卷外径

Roll outside diameter(mm)

Φ350mm

机器尺寸

Machine size (mm)

(L)3000*(W)1700*(H)1500(mm)

使用电力

Power supply

AC220V 50Hz/60Hz 3000W
主要性能特点:
◆全机采用进口伺服控制系统,使整机运行稳定、高速,先进亲和的触摸式 人机界面,操作简单直观、功能齐全,具有丰富的在线帮助功能◆ 采用世界知名品牌的进口电器元件,确保整机的稳定、可靠◆ 通用形的分瓶装置及双侧链条校正装置确保物料的对中性,特殊弹 性顶压装置确保物料的稳定性,任何直径的瓶形都不用更换配件,快速 调整定位◆ 一台机器可完成三种类型(圆瓶、扁瓶、方瓶)多种规格的自动侧面 贴标◆ 输送、校正、上压及贴标速度自动同步跟踪,使调整更加快速简单◆ 自动传感检测,具备无物不贴标,无标、漏标、断标自动停机或报警等自动检测功能,
防止漏贴和浪费◆ 可选配置(色带打码机)可在线打印生产日期和批号,减少瓶子包装工序 ,提高生产效益◆ 采用特殊抚标装置,贴标平整、牢固、无皱褶,大大提升包装质量◆ 前、后段可选连接流水线,也可选配有收料转盘,便于成品的收集、 整理和包装◆ 操作过程:放产品(可接流水线)—>产品输送(设备自动实现) —>产品分距—>产品检测—>贴标—>收集已贴标产品。
Main performance features:
◆ the running of complete machine is stable and at high speed with the use of imported servo control system.
◆ amiable and advanced touch human-computer interface which is easy and intuitionistic to operate and has complete functions including abundant on line help;
◆ using of the famous brands from around the world ensures the stability and reliability of the machine running;
◆ fast to adjust and locate without changing accessories to meet the demands of any shape bottles with the use of a universal bottle-distributing mechanism; materials is symmetrical about the center with the use of chain correction devices on double sides;
◆ special elastic pressure equipment ensures materials stable;
◆ one machine can label automatically flank of three kinds of bottles of what are oval, square and round with many kinds of sizes;
◆ automatic synchronous tracking to conveying, correction, pressure and labelling speed makes it easy and fast to adjust;
◆ automatic sensory test functions, such as cancelling labeling without objects there, stoping running or raising a alarm without labels to use to avoid omitting or wasting labels;
◆ choosable fitting( hot stamp printers) can print date of manufacture and batch number on line, which could reduce the bottle packaging process and enhance productivity effect;
◆ special label-pasting mechanism makes the labels more smooth, firm and withno wrinkles which enhances the packaging quality greatly;
◆ front or back section connected optionally with assembly line or receiving platform which is convinient for collecting, tidying and packaging the finished products;
◆ operational process:placing the products (may be connected with assembly line) —> conveying (automatically) —> distributing products—> products correction—> labeling—> collecting finished products.
八维调节机构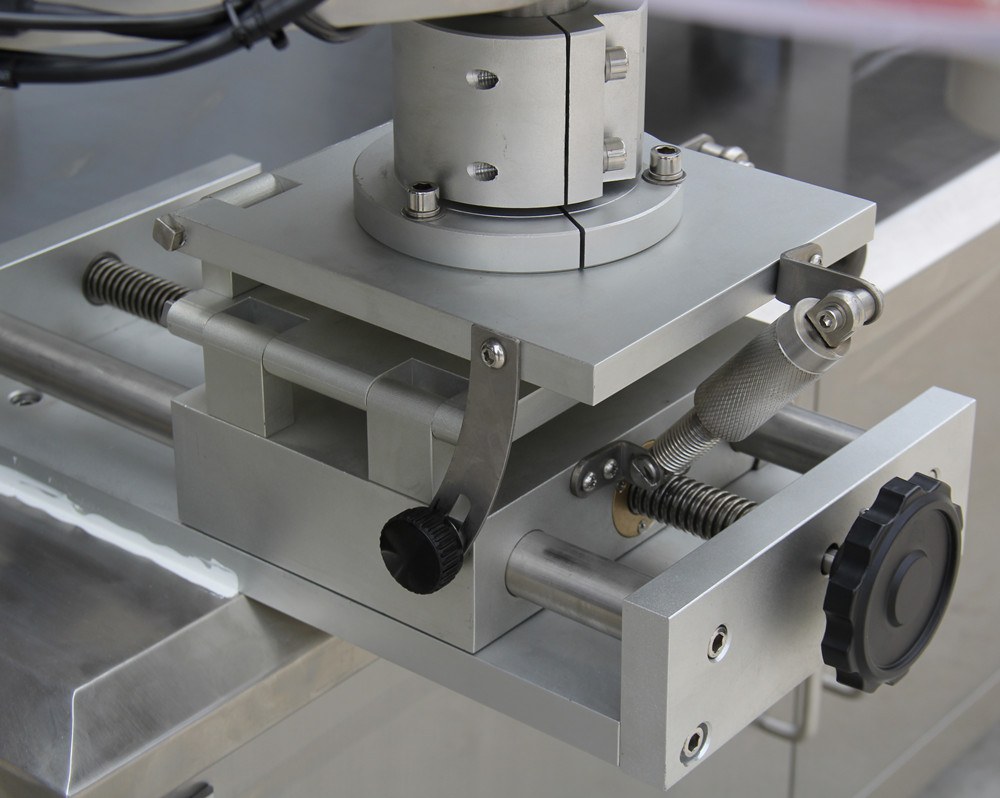 电器系统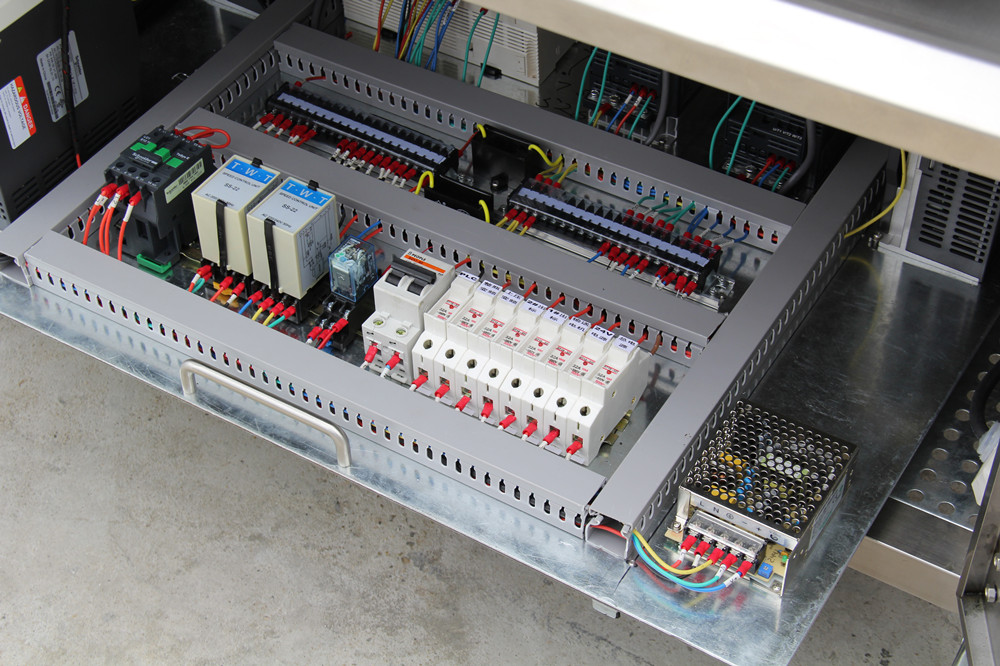 分瓶机构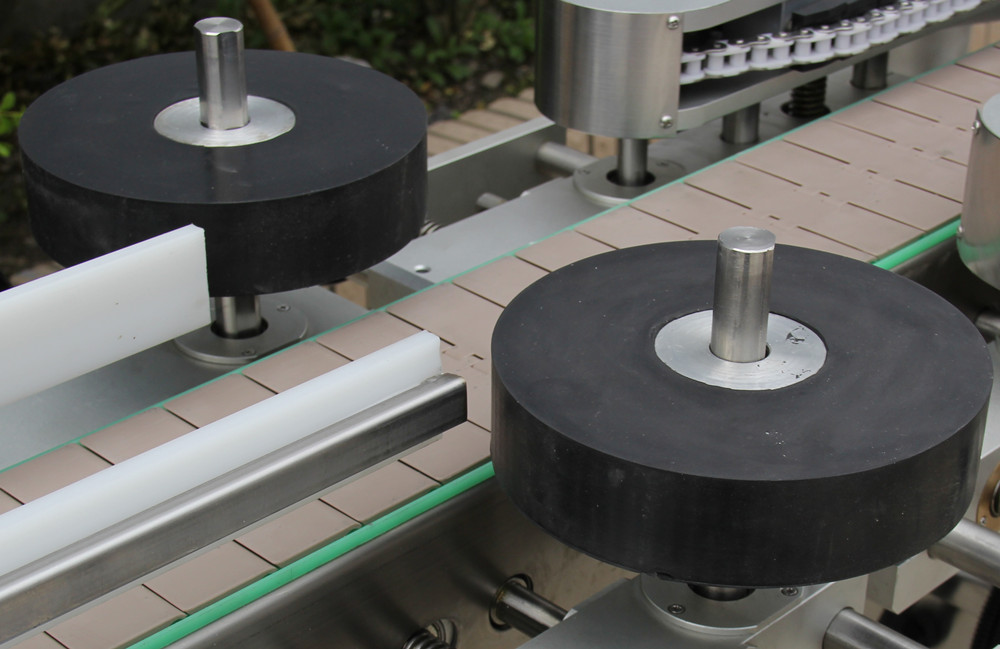 抚标机构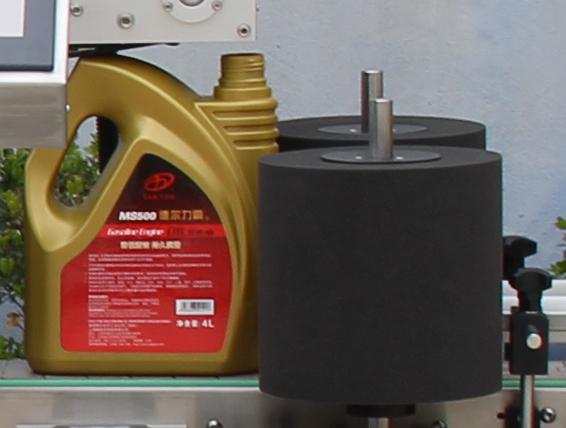 上压机构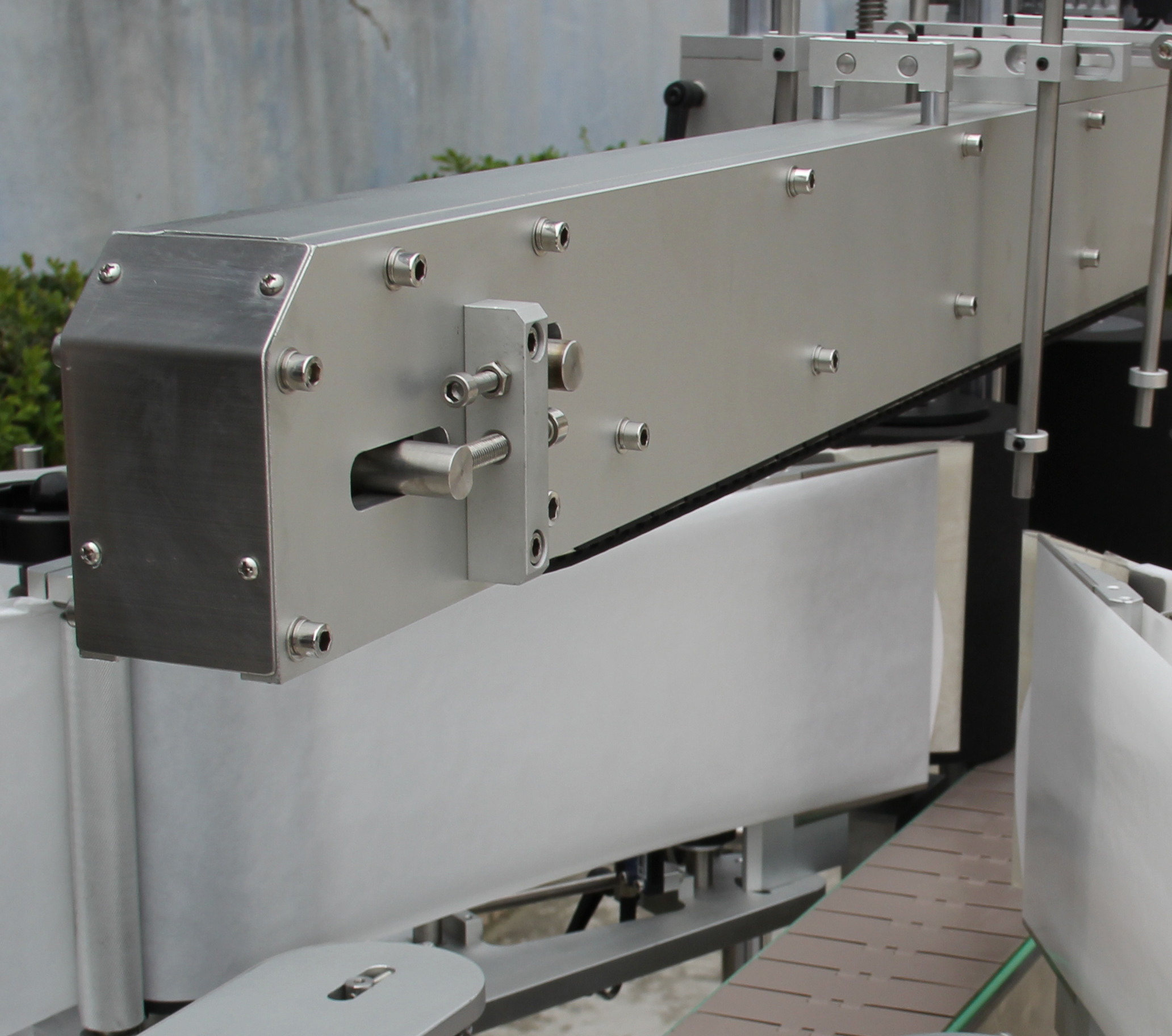 校正机构